We are passionate about memory keeping and friendships. Heart Sisters was formed in 2015 by a group of crafty friends in the Kansas City area. While the dynamics of the original group has changed, the love for crafting and new friendships has grown. When you attend one of our Weekend Events, you feel the connection between so many of our attendees, our tribe!
In addition to Weekend Events, we also offer some pretty awesome Pre-Made Page Kits, and the HS Page Kit Club. You can find all of our Page Kits online here, and also at our Weekend Events. You are always welcome to stop by and say hello, and do some shopping, too!
We're so glad you found us!
Scrapbooking in Kansas City
We are a fun (and sometimes silly!) group who loves to get together to relive the moments that have made our lives special. We welcome new friends, and it is the perfect way to meet others that share a common love of scrapbooking, card making, crafting and socializing.
A Heart Sisters Crop is good for the soul!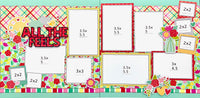 We are known for our pre-designed Page Kits, in a variety of themes using top-notch paper lines like Doodlebug, Bella Blvd, Pebbles Inc, and Simple Stories, to name a few! We've done all the hard work for you - Every kit comes pre-cut and ready to assemble. You just add your photos! Less stress, and more pages done!
Exclusive Monthly Page Kits
We are so excited about our brand new HS Page Kit Club, starting in June! Members of the HS Page Kit Club receive 4 Exclusive Page Kits each month, available only to those subscribed!
WHAT THEY'RE SAYING...
I've known Dana for a long time and her creativity just won't quit. She loves using new products out on the market but isn't afraid to dig into her stash. I've sent many people her way while working on her kits at various crops!! I not only respect her as a great designer, creator & business owner but I consider her a friend! 

Angie P.
If you are looking for local, affordable, and super fun weekend crops, Heart Sisters is the BEST there is! Dana is fabulous to work with, and always makes us feel right at home. The crops are held in local hotels, with plenty of space to work and move around. Dana has a variety of kits available for sale, as well as generous giveaways and prize drawings! So grab your girlfriends and get signed up for her amazing crops! Hope to see you there.   

Jo Stone, Iris Buds group/Heart Sisters Big Fan
Attending the Heart Sisters crops is so much fun! I've made quite a few new friends at these events and it's so much fun to all get together. Dana is very accommodating, there's plenty of room, there are drawings for prizes, and themes each time. We also get a special charm each crop.

Stephanie